Silicone rubber base products, and mold of silicone/plastic resin
■We offer various silicone rubber materials and products and mold of silicone resin-textiles silicone rubber material parts for "INDUSTRIAL", "MEDICAL(HEALTH CARE)" and "HOME" use.
Plastic resin, molded Sponge resin, novelty goods, molded fluoro rubber sponge,silicone rubber products for packing, masking
■Design mold for silicone resin prototype for industrial,
■low material for silicone rubber
silicone rubber・fluoro・lubricants・silicone oil・fluoro paint・adhesive
■laboratory eauipment for physical and chemistry・safty goods chemical eauipment・protection(glove・mask・clean room)・facility eauipment
Our Mission....
We've been providing silicone rubber base products, and mold of silicone/plastic resin.
Our advantage is to provide right solution to meet customer's individual requirement and have confident through our experience.
Not only for silicone resin-textiles, but we offer standardized goods for safty/laboratory equipment.
Flex resistance & High quality V BELTS!!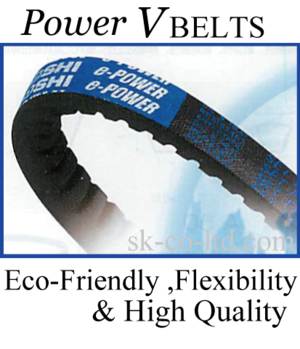 Flex resistance & High quality
It can help to decrease the energy.
(6% less energy compare to the others.)
cost effective
multiple life cycle

advance payent
lead time/trade term..... Please inquiry
Fast feedback for any inquiries!